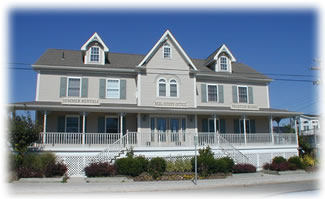 The Sofroney Family History - Five Generations of Sea Isle City Real Estate Professionals.

Maurice M. Sofroney was born in Philadelphia in 1893, one of 8 children of Eastern European immigrants. Maurice was educated in public schools and in his early years worked with the Reading Railroad as a telegrapher until 1913 when he relocated in Sea Isle City working as a food distributer and proprietor of the Central House Hotel at Garrison Avenue (39th St) and Landis Avenue. For the next five years he dabbled in Real Estate until he purchased the Louis Steinmeyer Real Estate & Insurance business located at West Jersey Avenue and Landis Avenue, renaming it M.M.Sofroney Real Estate & Insurance and increased the prestige of this business until it became one of the most well known of its type in the area.

In 1913 Maurice married Charlotte M. Ledig, born in Philadelphia in 1895 and whose parents, Frederick D. Ledig and Cora (Roberts) Ledig owned and operated the Central House Hotel during the summer seasons beginning in the early 1890s until their passing and the transfer of the property to their daughter and her husband. Maurice and his wife had three children, Fred D. born in 1915; Charles W. born in 1916 and Maurice M. Jr. born in 1918. During these years, Maurice began his political career having been appointed City Tax Collector and Treasurer and serving as City Commissioner and thereafter Mayor for two terms in office.

In the mid 1920s, Maurice moved from the area and the Sofroney Real Estate business was assumed by his wife, Charlotte who relocated the business to its present location at 4201 Landis Avenue. Charlotte continued the business thru the late 1950s during which time she worked as Real Estate Broker, Insurance Broker-Agent and well as acting as director of the NJ Motor Vehicle Agency for Cape May County which was located in her real estate office at 4201 Landis Avenue. Charlotte semi-retired from business in the late 1950s and the Sofroney Real Estate business was assumed by her oldest son, Fred D. Sofroney.

Fred was an active FHA Real Estate Appraiser as well as a real estate broker and insurance broker-agent for several large property and casualty insurance companies. Fred was active in the family business until his sudden passing in 1968 when Charlotte was called upon to reassume her duties as real estate broker and insurance agent. Fred's nephew James was working with Fred at this time and shortly thereafter the business was assumed by Fred's brother Maurice Jr. and Maurice's son James. Maurice and his mother Charlotte fully retired shortly thereafter, with Charlotte completing nearly a half-century of business and community service. The Sofroney Real Estate and Insurance business was fully assumed by Maurice's son James, a real estate broker, insurance broker, and real estate appraiser.

In 1987 James sold the Sofroney Real Estate Agency, electing to stay in the area and open Metro Appraisal Services, a regional appraisal company which he ran until 2008 when this company was turned over to his son, James Jr. Beginning in 1994 through the present, James built, opened and currently operates The Landis Co. Real Estate at 60th Street and Landis Avenue, the largest real estate rental office in the area. In early 2010, the original Sofroney Real Estate office at 4201 Landis Avenue was closed by its operators and James opened a branch office of The Landis Co. in this location, returning to the business site originally opened by his grandparents almost 90 years ago. Presently, James Jr. has joined his father in the operation of the two Landis Co. offices and has located his company, Metro Appraisal Services in the 2nd floor of the 60th Street offices.

The Sofroney family has had 4 generations of real estate professionals operating in this area for nearly 100 years and a 5th generation is not far behind. With eight grandchildren now in school and showing business aspirations, it will be interesting to see which of this next generation will assume the helm of the oldest family business in the area.